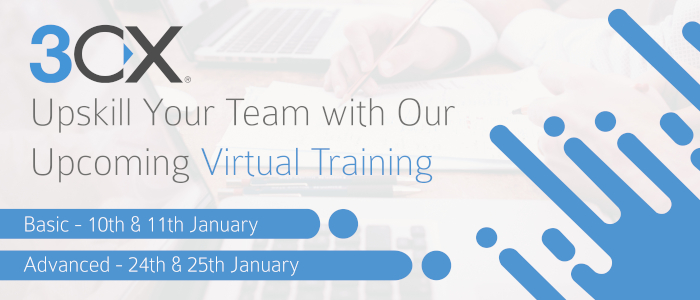 Upskill your team ready for whatever 2023 throws at them with our upcoming FREE virtual training. With both the basic and advanced courses being delivered in January 2023. There is no better time to give yourself and your team a refresher on how to deploy 3CX and the opportunities it can bring.
New to 3CX? Why not start your journey in 2023 with us? With a host of features including call queues, video conferencing, live chat, and contact centre, 3CX has tons to offer. What's more with no upfront cost, you can try 3CX for FREE for up to 10 users to see for yourself. Sign up for our basic course to explore how 3CX can secure and scale your business.
Upcoming Virtual 3CX Training Courses
3CX Basic Training
A great place to start with 3CX or to brush up on your knowledge. Learn about the basic concepts of getting 3CX up and running and develop techniques for basic troubleshooting.

3CX Advanced Training
Looking to take your 3CX to the next level? Develop your 3CX knowledge even further with the highest level of 3CX training and get even more exclusive perks from 3CX.
Why become 3CX certified?
Besides having a better understanding of one of the foremost PBX softwares, becoming 3CX certified offers tons of benefits including favourable pricing, leads from 3CX, improved technical support as well as customer confidence in the 3CX accreditation.
1.
Preferential pricing
Access cheaper pricing on 3CX products as you complete your 3CX certifications and move up on the partner program*. With pricing becoming more and more favourable as you reach silver, gold and platinum levels.
2.
Increase Sales
With a higher level of understanding on 3CX products, you and your team will be able to upsell 3CX's software with more confidence knowing it is the best product for the job.
3.
Accelerate your Partner Status
Accredited 3CX partners can easily progress through the partner program tiers. Starting with the basic course, set off on the right foot and on the path to bronze status. From there, the intermediate and advanced courses are your next steps to accelerate your status, enabling you to access Silver, Gold, Platinum and even Titanium partner levels (status dependent on annual sales). The 3CX partner program gives you not only the status that comes with being partnered with 3CX but also preferential pricing, website listing, and leads.
4.
Improve Your Customer Experience
With a greater understanding of 3CX gaining a 3CX certification enables you to understand how to resolve technical issues and provide a better level of support to your customer base.
Sign up for the 3CX Partner Program

Getting started with 3CX and want to save more?
Get a 5% discount on any Snom or Fanvil handsets when purchased with a new or renewed license with ProVu! Find out more about our one-stop shop for 3CX.
*Attendees are required to sit the relevant exam in order to become a certified partner, these can be accessed via the 3CX portal. To become an Advanced partner you will first need to complete the basic & intermediate training course.
**The 3CX Partner Program is based on sales figures and certification levels, to find out more about the tiering system visit: https://www.3cx.com/partners/channel-partner-program/