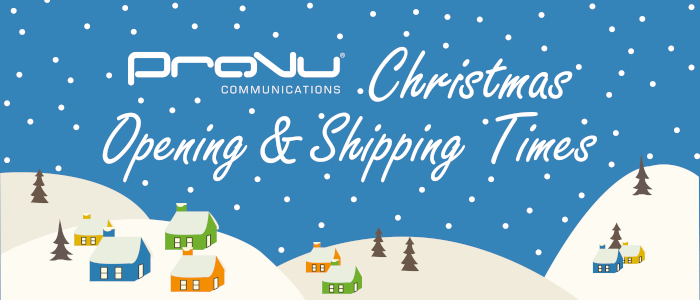 The festive season is almost upon us! With that in mind, we wanted to share more details about our opening and shipping times over Christmas and the New Year. During this period, we will continue to ship orders via APC.
Opening Times
| Day | Opening Hours |
| --- | --- |
| Friday 23rd December | 9:00-13:00 |
| Monday 26th December | Closed |
| Tuesday 27th December | Closed |
| Wednesday 28th December | 10:00-16:00 |
| Thursday 29th December | 10:00-16:00 |
| Friday 30th December | 10:00-16:00 |
| Monday 2nd January | Closed |
| Tuesday 3rd January | Open as usual |
Please be aware, we will be operating with a reduced number of staff between Christmas and New Year which may increase wait times.
Delivery Times
Avoid delays; orders placed on 23rd December will not be collected until the 28th December. If it's important for you to receive your orders before Christmas please make sure they are placed before the 22nd December at the latest.
| Order | APC Cut off | APC Delivery |
| --- | --- | --- |
| 23rd December | No Collection | 29th December |
| 28th December | 15:30 | 29th December |
| 29th December | 15:30 | 30th December |
| 30th December | 15:30 | 3rd January* |
| 3rd January | 16:45 | 4th January |
*Delivery can be arranged for New Years Eve on a specified Saturday delivery. This will need to be arranged at the point of placing your order. Please note; no deliveries will be made to addresses in Scotland on 4th January due to a public bank holiday.
Additional Information
The following services will not be available over the Christmas period:
APC Pre 9:00 and Pre 12:00
DPD Pre 10:30 and Pre 12:00
All Royal Mail Services
For customers wishing to book with DPD, please be aware that the last collection date before Christmas will be the 22nd December. Orders collected on this date will be delivered on the 23rd December, the next available collection date after this will be 3rd January.
Please note: Christmas is a busy time of year for our couriers and therefore this may lead to delays. If it is important that your orders are delivered on a specific day, we would recommend considering selecting a pre 12:00 service with APC – please contact a member of our team to discuss your requirements.