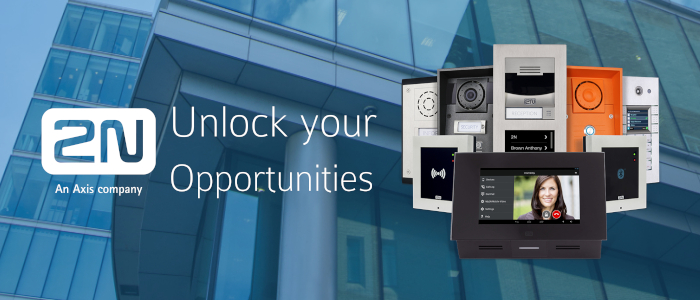 As we edge closer to the ISDN switch off, it is now more important than ever to maximise the opportunities available to you. Access Control offers huge potential for your business to expand its offering. Gone are the days when people need to be present to answer the door. With 2N you can create a solution that works for your partners, enabling access from anywhere, anytime with an all-IP solution.
Grow Your Opportunities with 2N
Expanding access control – Access control doesn't stop at the front door. More and more partners are working on solutions which can restrict access to specific areas within a business such as server rooms and areas where high value goods are stored. There's a lot of features that can be added and easily managed through one easy to use, centralised system.
Accessing additional features/enriching the experience – Think outside the box. 2N's devices can be used to maintain employee working hours through an intuitive clocking in/out system or even to create a smart building solution with reporting.
Managed services – All of this, of course can bring additional revenue to your business by increasing you offering and tying in a more integrated, future-proof solution which can be remotely managed.
Explore related products
---
Microsoft Teams Integration
Did you know 2N Intercoms are certified to call with Microsoft Teams? With the purchase of a third-party license*, we can help you to create a solution which works just how your customers need it to. What's more, with a range of Teams certified devices available, we can provide the complete solution in a one stop shop package.
---
Unable to install? Think again!
Don't have the resources to install yourself? Maximise your opportunities with our range of bespoke services.
*Third party app available to purchase separately through CyberTwice.