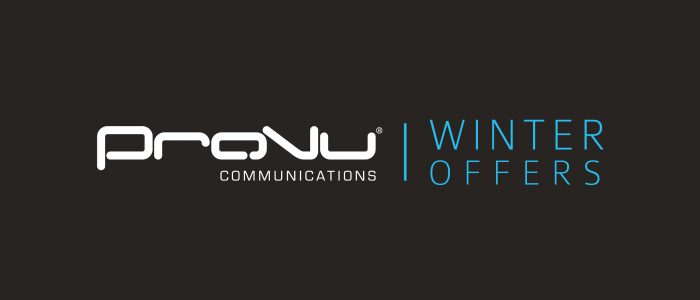 With Impressive offers from Yealink, Snom, Fanvil & Sangoma you won't want to miss your chance to make the most of these exciting deals. But hurry all these offers end 31st December.

Speakerphone Incentive
Take advantage of our Yealink Speakerphone offer! Purchase any 10 speakerphones from Yealink's range to qualify and receive a rebate of $5 per device. Not to mention that for every device you purchase over your first 10 you will also receive a $5 rebate too! Available until 31st December 2020, simply purchase any of Yealink's Speakerphone range to start earning your rewards*.
---

Fanvil Work from Home bundle
Claim a FREE WF20 USB WiFi dongle and PSU with the purchase of every X6U. This exciting new Bundle offers you the X6U enterprise IP phone with all the added extras that will help improve your home work station. Benefit from the added bonus of the WF20 USB Dongle to enable the increased connectability as well as a PSU to keep your X6U powered at home. Available until the 31st December, you don't want to miss out on this incredible offer saving you over £18!
Find out more about the Fanvil Winter Bundle
---

Yealink Winter Promotion
Get your FREE UH36 Binaural headset worth over £70 when you purchase any 10 devices from the Yealink T5 Series. Available until the 31st December, make the most of this incredible offer this winter season. Even better there is reduced pricing across the Yealink T5 Range, so you can't go wrong with this amazing offer! Order your T5's today!
Get more info on Yealinks Winter Promotion
---

Sangoma Free installation promotion
Have you ever used Sangoma before? No? Well now might be a great time to start! As we head to the end of the year and premises are currently quieter than normal, why not get a head start and install some new equipment & upgrade legacy systems to get off on the right foot for 2021. Available until the 31st December purchase any of Sangoma's Vega Gateways with ProVu and receive FREE remote installation worth up to £250!
Find out more about to get your Free Installation
---

Snom Hands Free Promotion
Snom's Hands Free promotion is coming to an end, but there is still time to take advantage of this offer. Until the 31st of December, a white Snom D717, D735 or a D785 and receive your choice of a free A100M or A100D headset! What's more, make the most of Snom's extended partner program rebates. Where you can enjoy rebates of up to 40% across some of Snom's most popular devices.
Explore Snom's Hands Free & Partner Rebates
---
Draytek FREE provisioning & management
New Draytek customers can benefit from FREE provisioning on your first router purchase with ProVu. Available on any of the 2620Ln, 2762, 2832 and 2862 series, you can now experience the truly seamless experience that comes with our TR-069 router provisioning. Simply set up your customised provisioning template with your preferred settings and receive your router direct to site ready to plug & play! What's more, new customers are also eligible to receive 1 Year FREE router management, giving you the ability to remotely edit router settings and firmware.
Find out more about DrayTek routers
---

For those interested in finding out more about Yealink's latest products why not take advantage of our NFR offers and test them out for yourself. Available one of each model per company, you can select any of the following models at a significantly lower price:
For more information please get in touch. Call 01484 840048 or email contact@provu.co.uk to speak with a member of our team.
*Offer based on monthly purchase rates; numbers will be reset at the beginning of every month. Rebates will be based on number of speakerphones purchased from ProVu. Offer requires a minimum of 10 speakerphones to be purchased within one month. For every additional unit purchased after the first 10, you will earn a rebate of $5 per device. For example resellers who purchase 55 speakerphones in one month will be eligible for a rebate of $275 (55x$5). Rebate payments will be made by ProVu Communications on a quarterly basis.
**Terms & conditions apply, free remote installation only available to customers who have never purchased a Sangoma Vega Gateway.